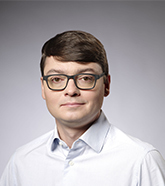 ANTON RAHMANOVSKY
Founder & Managing Partner
Anton Rahmanovsky is the founder and managing partner of Leorsa Innovations. Anton, together with Vyacheslav Dernovsky, direct new business development and business strategy. Anton discovers new investment opportunities and mentors and sits on the board of select portfolio companies.
Prior to founding Leorsa Innovations in 2014, Anton was working at Société Générale covering key financial areas including operational banking and financing.
Anton holds a B.A. with honors from the Business School Lausanne, Switzerland.
VYACHESLAV DERNOVSKY
Innovative Development Expert
Vyacheslav Dernovsky is the Innovations Development expert at Leorsa Innovations. Vyacheslav is responsible for identifying key sectors in which to invest and analyzing all new opportunities for new or existing portfolio companies.
Prior to joining Leorsa Innovations, Vyacheslav worked at Ioffe Physics and Engineering Instute of the Russian Academy of Sciences in research and testing, obtaining unique results in the study of high-current vacuum arcs.
Vyacheslav has achieved many accolades in the area of Science. He has been recognized by the Krylov Shipbuilding Research Institute for 'The Best Work in Hydrodynamics and Ship Studies Presented by Young Experts'.
Vyacheslav has published 16 scientific articles and has been awarded several certificates of merit by the Russian Academy of Sciences. He is also a mentor at IIDF (Internet Initiatives Development Fund) and is a mentor for Ingria Business Incubator.
Vyacheslav holds a degree in Economics from UNECON, a Master's degree of Applied Mathematics and Physics from St. Petersburg State University and a PhD in Engineering from St. Petersburg State University of Aerospace Instrumentation.